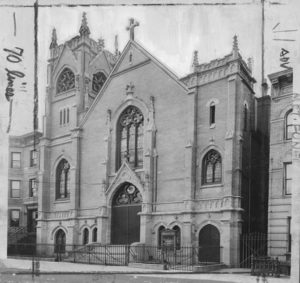 "CommonPlace is a new vision for community-based development, transforming a defunct Lutheran church into a thriving community center."
Community is the promise of city life, drawing generations into the common places of New York City. 
Yet, increasingly we find our common places enclosed, commercialized, privatized and sold off. The problem is especially acute in today's Greenpoint, where the fevered pitch of development runs rampant, mutating our waterfront, crowding our blocks, and devouring once common spaces in the name of urban renewal. 
Case in point: The Park Church. A purpose-built place of public assembly on one of North Brooklyn's few city parks, this handsome stone structure has served the people of Greenpoint and beyond for over 100 years with community programs and ecclesiastic offerings. 
Now, a short-sighted sale by the church's owner, the Metropolitan New York Synod of the Evangelical Lutheran Church of America, has targeted the building for destruction, erecting in its place luxury condominiums. 
We cannot let this happen.
CommonPlace is a vision for a new and better way forward, harnessing the power of our own community to develop our own neighborhood in our own image. We intend to preserve and activate the Park Church as community space, using new tools to raise vital funds and chart a path towards local development serving more than mere financial interests. 
But we can't do it without you!
We urge you to sign our petition to the Attorney General below, read our FAQ, and consider lending your voice, your vision, and even your investment to our efforts. By design, our plan can only succeed if the community itself sees its value.
In other words, the promise of city life begins with you! 
CommonPlace relies on we, the people, to pioneer a new way forward. 
Our first step is to let the Attorney General know that we oppose this short-sighted and cynical sale.